Unbreathable now, Refreshing later
By Ralph Fato on June 20, 2012, 9:29am
Use your ← → (arrow) keys to browse more stories.
Watches & Warnings out for this heat event. Pretty much will feel like low 100s all over the entire area. Aside from keeping an eye on the elderly and yourself, watch your pets. Concrete and blacktop Pavements can dry and burn the sensitive paws and they feel the heat more being closer to the hot surface. Short walks and ice cubes in their water bowls is the trick during hot days. Plus give them shade if they are outside with you. Be safe out there... There is a refreshing side to this...
By State:
Air Quality Alert
CT IN KY MA MD MI NC NJ NY PA RI TN VA
Excessive Heat Warning
AZ DE NJ NY PA
Heat Advisory
CT DC MA MD ME NH NJ NY PA RI VA VT WV
By County in CT
Air Quality Alert
Fairfield Middlesex New Haven
New London
Heat Advisory
Fairfield Hartford Litchfield
Middlesex New Haven New London
Tolland Windham
Once this passes... here's what the GFS model shows as far as low temps for Monday night. Both models bring a nice trough into the Northeast so back to normal we go. Normal lows are mostly mid to upper 50s next week.
GFS shows widespread 40s getting into Litchfield, Hartford, Tolland, and Windham..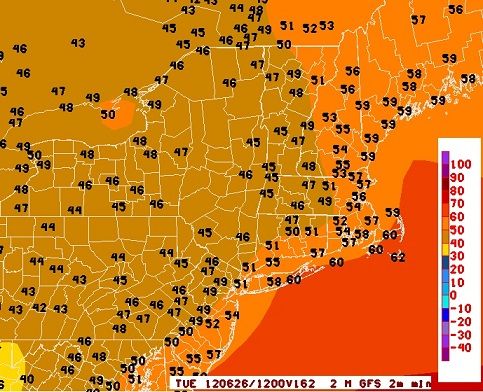 Use your ← → (arrow) keys to browse more stories.
More articles you'll like