Windsor Locks F4 Tornado, 34th Anniversary
By Paul Taschereau JR on October 3, 2013, 9:15am Last modified: October 7, 2013, 9:00am
Use your ← → (arrow) keys to browse more stories.
CT is no stranger to tornadoes, in fact since official records have been kept since 1950 CT has had 91 confirmed tornadoes for an average of 1.49 per year. Typically our tornadoes are on the weaker side and usually don't produce much damage outside of downed trees/power poles. Very rarely do they produce much in the way of significant structural damage, except of course when a tree happens to fall on a building. Of the 91 confirmed tornadoes only 4 of them have been rated as an F3 and 2 have been rated as an F4. (Note: Since the implication of the Enhanced-Fujita scale (EF) in February of 2007 CT has not had a tornado rated higher than an EF2). Most of the tornadoes that occur in CT occur during the months of June-July-August, this is when the combination of heat/humidity can lead to large amounts of instability which is a main ingredient in the development of tornadoes.
Typically when one thinks of October in CT you don't think about thunderstorms, severe weather or tornadoes, you think fall; changing leaves, cooler temperatures and a transition from summer to winter. However, on Wednesday, October 3rd, 1979 arguably the strongest and most damaging tornado in modern history occurred across portions of Windsor, Windsor Locks, and Suffield, CT. Not only was the timing incredibly rare for this area but to get such a damaging event from the storm system was even more impressive.
Leading up to October 3rd, 1979 a trough was developing and deepening across southern Canada and the northern Plains of the United States. With each progressing day the trough continued to sharpen and deepen dragging a cold front through the heart of the country. Out ahead of this trough, however, there was another developing system. On Monday the 1st a diffuse occluded front was draped from northern TX all the way northeastward through the Ohio Valley and just west of PA/NY into Canada. By Tuesday this boundary had shifted eastward and an area of surface low pressure began developing across the Ohio Valley and slide eastward across the boundary into the Northeast prompting a warm front to shit northward towards southern New England. Early Wednesday morning (as the graphic shows below) the low pressure had continued to deepen as it northeastward. At 7:00 AM EST the warm front was located just south of Long Island. As the morning and early afternoon hours went on and the surface low continued to deepen and move northeast the warm front would eventually end up over northern CT. This would pump in warmer and more humid air into CT.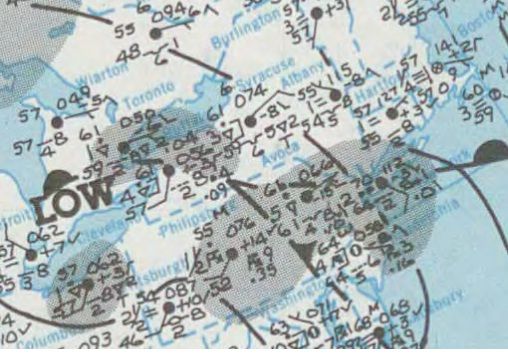 During the morning hours a secondary area of low pressure which had developed across North Carolina began working it's way northward and was soon riding up along where the warm front and cold front intersected. By mid afternoon this feature had finally reached CT and the warm front was lifting through the state. As the warm front moved through temperatures jumped well into the 70's with the dewpoints not too far behind. The graphic below shows the 500mb level at 4 PM (an hour after the tornado touchdown); the secondary low was situated just west of CT with the warm front draped across northern CT with the cold front also just to the west of CT. This placed the entire state in the "triple point" or where the warm front cold front meet to create an occluded front. Air associated with the triple point rises very quickly and vigorously and wind shear is quite strong as well. Associated with this system was a vigorous piece of energy located at 500mb which was associated with very strong mid level wind fields.
With the warm front located across northern CT winds at the surface and just above the ground had switched over to a more southeasterly wind direction (helping to usher in warmer temps and higher dewpoints) while winds from 2000ft on up where more southwesterly with speeds increasing with height. This yielded to large amounts of 0-1km helicity which meant there was a good deal of atmospheric spin.
According to some reports there were a few breaks of sunshine which occurred across portions of northern CT early on in the afternoon. This short duration of sun helped to locally spike temperatures upward a bit. With the combination of a very warm and moist low-level airmass in place along with cold temps in the mid-levels of the atmosphere this lead to some steep mid-level lapse rates which helped to boost up instability values.
During the mid to late morning hours a thunderstorm (which then developed into a supercell) which had developed just south of Long Island Sound was moving due northward and by early afternoon it had made it's way northward into CT. As the supercell taped into the enhanced shear and pocket of higher instability it quickly strengthened. Finally around 3:00 PM EST a very large and rain wrapped tornado touched down in the the Poquonock section of Windsor, CT. Several buildings, including the elementary school were heavily damaged. The tornado then continued to move through Windsor into Windsor Locks where it heavily damaged the Bradley Air Museum as well as causing major destruction to dozens aircraft and then into Suffield and then finally into the Feeding Hills section of Agawam, MA. Between Windsor, Windsor Locks, and Suffield dozens of buildings were severely destroyed with several completely wiped off their foundation. When the tornado was all said and done 3 people were killed with hundreds more injured. The 3 causalities made this the first killer tornado in the state of CT since the killer Wallingford tornado of 1878. It is also believed the Windsor Locks tornado is the strongest tornado to hit the state in modern history and may only be rivaled by the 1878 Wallingford tornado. The tornado caused more than $200 million in damage in 1979 USD (that works out to be about $640 million in today's money!). To this day the Windsor Locks tornado which received a rating of a strong F4 still ranks as the 9th most costliest tornado in recorded history. This was also the first tornado to be ranked this high on the Fujita scale since records had been kept beginning in 1950.
All in all you would never expect to get such a damaging tornado from this system. Normally you'd see weak tornadoes (which there were a few in PA/NJ earlier on in the morning) but to expect such a strong tornado would be nuts. While wind shear was certainly impressive along with helicity it is believed that just a little bit of heating just prior to the storm helping to boost up instability along with terrain enhancement (the storm was moving due south to north through the CT Valley and low-level winds usually are enhanced in valleys) helped to create an environment that was perfect enough for the developed of a violent tornado. The supercell thunderstorm which was moving left to the mean wind flow "left mover" also helped for the storm to further utilize the strong wind shear in place yielding to even locally higher amounts of helicity. Besides this F4 tornado there has been one other tornado ranked as an F4, that occurred on July 10th, 1989 and moved through Hamden, CT and diminishing just prior to hitting downtown New Haven. Although this was rated as an F4 it is believed that this tornado was actually weaker than this. To this day, the Windsor Locks tornado remains king for deadliest/strongest tornado in modern history to hit CT but going back in history it still sits below the great Wallingford tornado of 1878.
Use your ← → (arrow) keys to browse more stories.
More articles you'll like