Where's the front? 10/6/12, My Snow Map Forecast
By Ralph Fato on October 6, 2012, 8:39am
Use your ← → (arrow) keys to browse more stories.
4 things on this map as of 7:15amEST. Radar, Temps, 850 temps, 850 heights.
I think you can tell where the front is sitting. Temps behind it in the 20s and 30s and temps ahead of it still in the 50s and 60s. Also notice the "flow"... NorthWest winds behind the front, Southwest wind ahead of it.
The precip associated with this front is not impressive and models had picked up on that days ago so just expect scattered rain today but as the low forms along the front on the coast it will enhance rain for Sunday. So expect a raw rainy Sunday. The timing of things is always interesting. Since the layer above will be below freezing Sunday, had it been December, we would of had more snow in the forecast, but other factors play a huge role in early October.
Either way, the pattern for the past 4 weeks has peaked my interest.
Also note... Places in the Mid West and plains are 10-15 degrees below normal. Even Texas Panhandle had Freeze watches last night. As the trough lifts out, it wont be as deep or far south as it was. But anyone north of Virginia will feel the effects and anyone north of CT will really feel it.
Looking ahead... here's HPC thoughts on temp probabilites for 6-10 & 8-14 days out. Its been a while since I saw purples on their maps.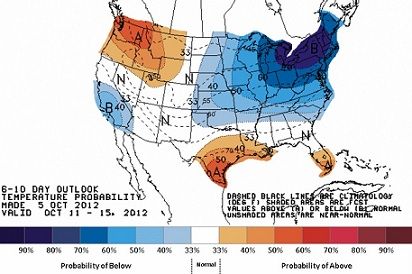 A screen shot is of Grand Forks, ND. Their normal high is 61 degrees the other day. They didnt get past 40. Thats 21 degrees below normal! Im sure a wide selection of places saw similar results.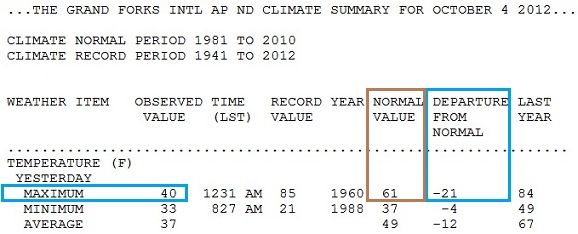 Here's my snowmap for tomorrow night. I believe higher elevations above 2500' will see a light accumulations but higher peaks above 4000' could see up to 3". Not a lot of qpf with this one and will melt fast.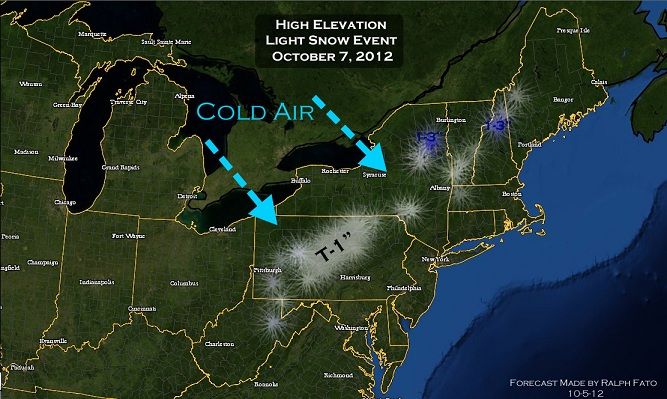 Enjoy the weekend everyone.
Use your ← → (arrow) keys to browse more stories.
More articles you'll like