December 26-27, 2012 Snowstorm Info
By Ralph Fato on December 28, 2012, 9:15am Last modified: December 28, 2012, 9:19am
Use your ← → (arrow) keys to browse more stories.
Last week I wrote about how busy December is and it looks like its not over yet as another storm coming for the 29th.. http://www.wxedge.com/articles/20121222a_busy_stormy_december_2012
Image above is from NOAA of the storm as its off the coast of MA.. http://www.nnvl.noaa.gov/MediaDetail2.php?MediaID=1261&MediaTypeID=1
Map below is from Eastern Region Headquarters. Highest NWS report in CT was North Granby at 8.6". Generally 4-6" fell across Litchfield and Hartford Counties.
Highest General Snowfall Totals by State :
Ohio: 7-9"
Pennsylvania: 12-14"(northwestern)
Virginia: 4-5"(northwestern)
Maryland: 11-14"(western)
New Jersey: 5-7" (northwestern)
New York: 13-16" (western & central) 17.4" in Addison(southwest)
Connecticut: 5-7" (northwestern)
Rhode Island: 4.5"
Massachusetts: 11-13" (western) 7-9" (northern)
Vermont: 12-15" (central & northern) 21" in Woodford (southern)
New Hampshire: 7-9" (eastern)
Maine: 8-10" (southern)
West Virginia: 8-10" (northeast)
Indiana: 10-12" (south-central)
Michigan: 8-10" (eastern)
Illinoise: 12-15" (southeastern) 18.3" Albion
Missouri: 4-6" (southeastern)
Kentucky: 4-7" (western)
Tennessee: 4-6" (western)
Arkansas: 12-15" (northeastern)
Oklahoma: 6-8" (eastern)
Texas: 8-12" (northeastern)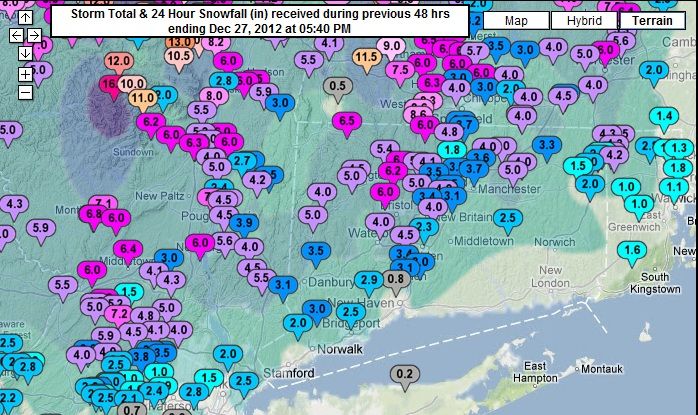 More articles you'll like