Rivers Freezing Over - Current Temps
By Ralph Fato on January 23, 2013, 3:20pm Last modified: January 24, 2013, 10:30am
Use your ← → (arrow) keys to browse more stories.
Norwalk River by the Merritt Parkway in Norwalk.
It doesn't take much for water to freeze when temps struggle past the teens.
Today will be the 3rd day in a row where high temps stayed below freezing. Meanwhile, just 3 days ago it was in the 50's. We haven't had teens for highs all winter.
The wind chill values are more impressive than the temperatures themselves. Northwest wind gusting from 20-35mph make the air feel like single digits to near 0!
A good reminder: Just because water is frozen on top doesn't mean its safe to walk on. It needs to be at least 4 inches deep. Use this graphic to help remember the thickness and weight safety.
Here's a look at the afternoon temps today with wind chill values in parenthesis. It feels like it was around 5 degrees out there. The Windsor Locks (BDL) area feels like zero. 850 temps plunged to -20C (below zero °F) all the way down to Baltimore.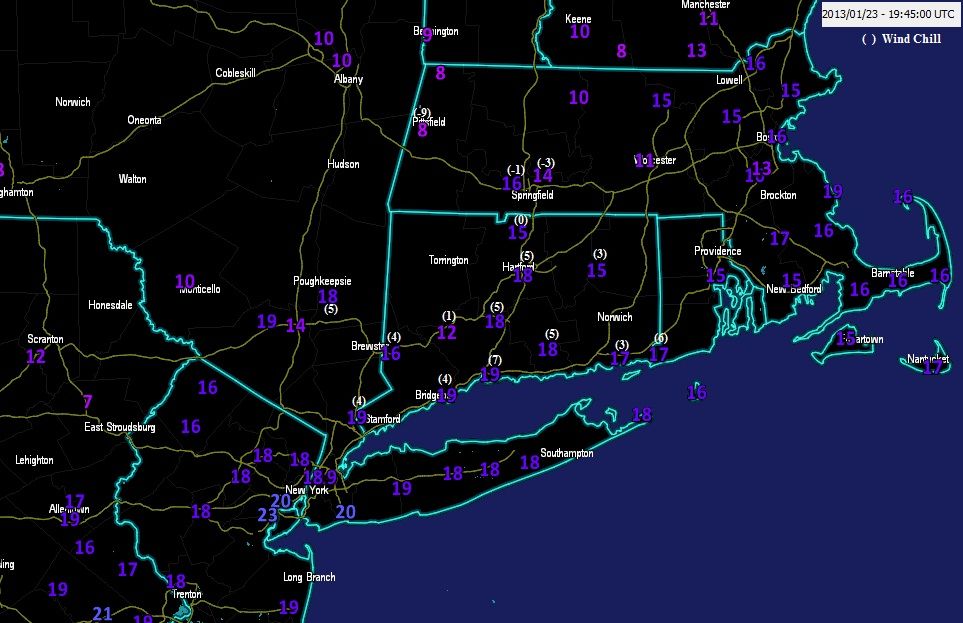 Use your ← → (arrow) keys to browse more stories.
More articles you'll like