February 2013 Blizzard
By Ralph Fato on February 10, 2013, 1:00pm Last modified: February 12, 2013, 6:48pm
Use your ← → (arrow) keys to browse more stories.
Satellite image looks like a hurricane, but it's the Blizzard/Nor'easter that just passed by.
Blizzard of February 2013:
A seasons worth of snow not just in 1 storm, but within a 24-hour window. One low-pressure system originated from the Northern Plains, The other low originated over Texas. Gulf moisture feeding into it and perfect timing led to the 2 storms merging together off the coast exploding into a blizzard and polar air fed into the storm.
By now we've seen some pretty dramatic images of the 2-3 feet of snow that fell. Who would of thought 12-16" would be ignored and overshadowed by 2-3 feet of snow. Maybe a better question is… how many more extremes is this state going to go through? We've had about 5 in the past 2 yrs.
Season Snow Totals:
BDR (Bridgeport area) now has 51 inches for the year, which is 35 inches above normal to date. They usually have 15 inches of snow on average by February 9th.
BDL (Windsor Locks) has 44.4 inches on the season. 18.8" above normal. They usually have 25.6" on average by Feb. 9th
It was Hartford's 2nd biggest snowstorm on record
5th biggest for Boston
3rd biggest for Worcester
9th for Providence
Records:
Largest snowstorm ever recorded at Upton. 30.9"
Largest 2 day storm total on record for BDR. 30". (Just 3 months ago we had the largest ever November snowstorm at BDR)
Largest 2 day storm total on record for Islip. 27.8"
Biggest snowstorm for Portland Maine at 31.9"
Daily records at BDR, BDL, PVD, ORH, BGM, CON, PWM
BDR now is 20 inches away from having more snow than the entire decade of the 1980s! They have 164.9" this decade (2010,2011,2012,2013) and we still have 6 years left, plus the rest of this winter.
BDR got 30" which melted to 2.30" liquid, which is an average of 12:1 ratios. But the beginning of the storm had 7:1, it was the second half of storm and at night when ratios went to about 16:1.
BDL got 25". Total liquid unknown at this point
Let's go over some surface maps from the event.
Here's a picture I took of the sunrise the morning before. I saw this happen the morning before the January 12, 2011 blizzard too.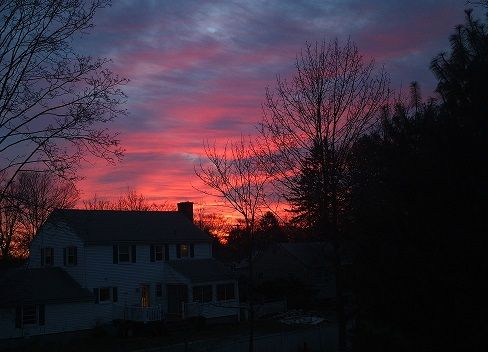 Graphics From NWS Upton and Boston: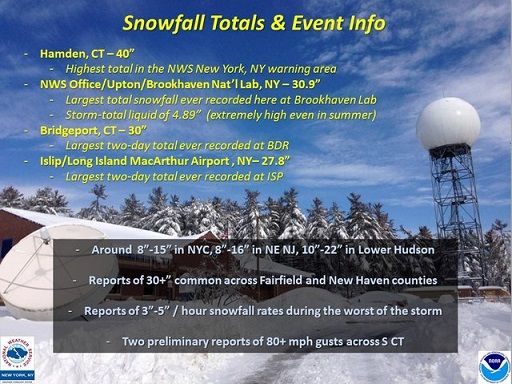 More articles you'll like