Solid Signs of a Pattern Change?
By Quincy Vagell on December 7, 2012, 3:55pm Last modified: December 10, 2012, 7:43am
Use your ← → (arrow) keys to browse more stories.
The image below is a 8-10 day forecast from the European and GFS forecast models:

In a nutshell, the models are indicating that as a ridge across the Atlantic Ocean breaks down, colder air is able to filter down into the United States from Canada. The two models have their differences, but the main signal is there. This could potentially happen by next weekend and if it does, we would shift into a more wintry weather pattern.
Here's a look at how the pattern has been lately:

The left panel shows the 500mb heights and anomalies from Wednesday morning.
The oranges and reds indicate above average heights (generally above normal temperatures). There was so much warm air across North America with very little cold air, which is shown in blue.
The right panel shows how the pattern looks as of Friday, December 7th.
Although there has been an expansion of cold air across Canada, ridging remains locked in across the East Coast. The result is generally at or above normal temperatures, along with a storm track that is generally northwest of Connecticut.
What's this all mean?
Well, the pattern lately has been very progressive. This means that storm systems move quickly and any blasts of cold air are very brief in the northeastern United States. The models are indicating the potential for a colder pattern to set in, either by next weekend or the following week. This could POSSIBLY be accompanied by a storm on the East Coast. This potential storm is absolutely not set in stone. There is better agreement now between the GFS and Euro than previous forecasts.
Previous model runs have tried to bring colder air in, but we're beginning to see a bit more consistency now. Also, the signals are a bit stronger. The North Atlantic Oscillation (NAO) is forecast to go strongly negative and stay relatively negative for an extended period of time. The graphic below shows that most models predict a period of -NAO lasting at least two weeks. This would be the longest such period since Hurricane Sandy: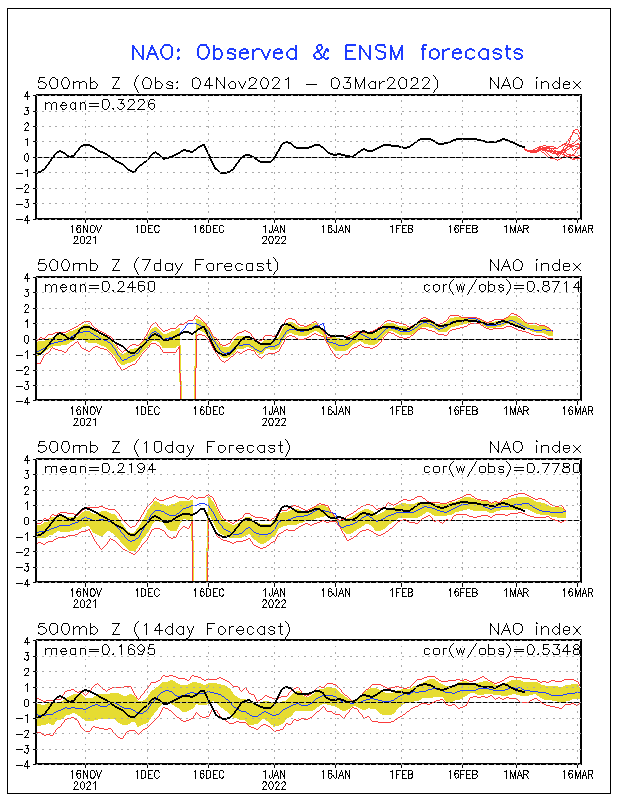 This is what current forecasts show and keep in mind that forecasts can change.
Stay tuned to WXedge.com for the latest forecasts and discussions.
Follow me on Twitter & Facebook for more frequent updates:
Use your ← → (arrow) keys to browse more stories.
More articles you'll like